Saturdays Best Deals: Instant Pot Duo Plus, Cubii Pro Under-Desk Elliptical, AirPods Pro, Bounty Hunter Metal Detectors, and More
Best Deals of the Day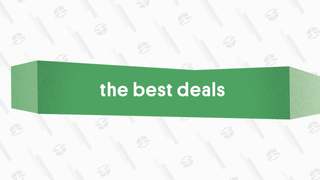 Best Deals of the Day
The best deals from around the web, updated daily.
A pack of hand sanitizer, Amazon's final day of the Big Style Sale, a mini-3D printer, Switch copies of Just Dane 2020, and more lead the pack of Sunday's best deals.
Bookmark Kinja Deals and follow us on Twitter to never miss a deal!
G/O Media may get a commission
3D printers are so cool. They're also stupid expensive, though. But this week, Monoprice has a mini 3D-printer for just $200, which is 60% off its normal price. You can print all sorts of cool things with it!
Sure, it's not a huge 3D printer so you probably can't print out car parts or veins for the heart or whatever, but it'll probably suit an average person's needs or wants pretty well. This deal also comes with some resin, which you'll need to… you know, actually print things out.
If you're mulling it over, this sale lasts until July 5. Don't wait too long, though!
---
Think your Apple Watch looks too modern, a.k.a. super plain? Well someone agreed with you, and created these Apple Watch bands that look like scrunchies. It's like it stepped out of the 90's, but you know, with today's technology. Remember dial-up modems? Awful. Anyway, you can get a new band in one of five scrunchy styles for just $6 if you use the code T9J4HKUJ and clip the coupon. Not bad! I'd recommend the rainbow one, personally. Go all the way with your Apple Watch style!
---
Adding bias lights to your TV? Giving your gaming cave the finishing touches? Do you just like colorful lights? Try out Minger's RGB LED strip, which offers 16.4 feet of colorful bulbs that can switch between 16 different colors for just $10 with promo code R2OJ5ZOQ. Govee is the budget brand many have flocked to lately, but at just $10, you might as well see if these can fill your needs all the same.
---
With 4th of July quickly approaching, HP wants to hook you up with big savings to celebrate. You can save up to 60% off in its biggest sale of the summer. Everything from laptops to printers are up for grabs, some with steep savings.
One of the best deals you'll find is on this HP 340S G7 notebook that starts with a 14-inch 720p+ display, 10th-gen Intel Core i3 chipset, 4GB of RAM, and a 128GB SSD for $458, down from $1,146. You can customize it to add 1080p and beefier internals, up to a Core i7 chipset, 16GB of RAM, 512GB of SSD storage, WiFi 6, keyboard backlighting, and a fingerprint sensor.
---
The Samsung Galaxy S20 lineup offers some of the most advanced smartphones ever, and they're priced accordingly. It's tough for anyone to justify spending Samsung's asking price, but Amazon is issuing a $200 discount on pretty much all available unlocked models, including the Galaxy S20 5G ($800), Galaxy S20+ ($1,000), and Galaxy S20 Ultra ($1,200), all with 128GB of storage.
Here are some of the specs and features they all share:
Dynamic AMOLED HDR+ 120Hz display (3200 x 1400)
Snapdragon 865, 12GB of RAM, 128GB Storage + microSD
Five total cameras
USB-C Power Delivery, 15W Wireless Charging, Reverse Wireless Charging
Samsung Pay, Ultrasonic Fingerprint Sensor
IP68 water and dust resistance
Android 10 w/ One UI 2
5G Capabilities
Exact battery capacity, display size, camera capabilities, and charging speeds change with each device, however, so get a good look at all of them with the links ahead before making your purchase.
This deal was originally posted by Quentyn Kennemer on 6/11/2020 and updated by Quentyn Kennemer with new information on 6/25/2020.
---
Between cramped nightstands and scarce electrical outlets, it can be hard to make sure all your gadgets get their daily boost. Wireless charging alone won't solve that problem, but a wireless charging pad that supports two devices can help you get things a little more in order. Right now, you can get Anker's Powerwave 10 wireless charging pad for just $36 on Amazon using the promo code AKRB2571.
The Powerwave 10 supports charging up to two devices simultaneously, and also supports fast charging. It also comes with a 5 ft charging cable, giving you everything you need to plop your phones down and forget about it til' it's topped off.
This deal was originally published by Jordan McMahon on 5/6/2020 and updated by Quentyn Kennemer with new information on 6/25/2020.
---
As a proud new owner of the base model 16″ MacBook Pro—which normally runs about $2,400—I've gotta say, I feel duped by this rare discount on Amazon that brings the price down 10% to $2,149. If I'd saved $250 on my MacBook Pro just a few short weeks ago, I could have bought 250 cheeseburgers from the dollar menu at McDonald's. Or, if I was feeling responsible, I could have put it toward my car payment.
Ah, but alas I did not and so I'm sitting here advising you not to make the same mistake I did. If ever you were thinking of buying the 16″ MacBook Pro, now is the time to grab one. It's got a six-core i7-9750H processor, 16GB of fast 2,666MHz DDR4 RAM, 512GB of flash storage, and a 4GB AMD Radeon Pro graphics processor built-in. Call it mitochondria because it's a real powerhouse … for a Mac that is! Graced with force-canceling woofers, the six-speaker sound system is impressive as well.
Although I've personally run into constant pinwheeling in Chrome ever since I got the thing, that issue isn't unique to me or this MacBook specifically. My partner has the same problem on her brand-new 13″ MacBook Pro and I had it on my 2017 version of that laptop before it. Otherwise, it's been smooth sailing. Test it out for yourself, and remember Amazon has a 30-day return policy if it's not up to snuff. I, for one, blame Chrome.
This deal was originally published by Gabe Carey on 6/11/2020 and updated by Gabe Carey with new information on 6/24/2020.
---
Whether you've grown addicted to apps or you're looking to store more games on your Nintendo Switch, everyone could find a reason to jump on this deal for Samsung's 256GB EVO Select microSD card. It's down to $34 today. This is a U3 card that has read/write speeds of 100/90 megabytes per second, and should work in almost any modern device that supports microSD. You'll also get an adapter to use it with even more devices like digital cameras.
Remember the old Tiger Electronics handheld games? I had a few of them when I was younger. I distinctly remember a Lion King one that I never understood how to play, among a few others. They were super cool in the early nineties, but technology moved beyond Tiger Electronics' simplistic games to things like our fancy Nintendo Switches… but that doesn't mean we can't enjoy a little nostalgia trip by pre-ordering this Transformers Tiger Electronics game!
If your interest is piqued and the rose-tinted classes are on, you better pre-order this fast—the other two Tiger Electronic games set to release with Transformers on July 1 (Sonic the Hedgehog 3 and X-Men) are already sold out. Don't think, just buy and you can consider the consequences later.
---
Having trouble picking up a copy of Ring Fit Adventure? You're not the only one, with copies running out of stock within minutes. It's frustrating! But if you're looking for an alternative workout for the Switch, maybe you should check out Just Dance 2020.
Dancing can be one hell of a workout, and you can grab the title on Switch at Best Buy and Amazon for just $20. Who you grab Just Dance 2020 from depends on when you want to grab it—if there's a copy at your local Best Buy, you can pick it up today. The Amazon copies won't be in stock until July 2 and will ship afterwards, but if you can wait a few days, why not have it delivered?
---
If you know anything about Fortnite, congratulations, you know more than me. On sale at Amazon for half off the list price, this nightmarish Bluetooth speaker inspired by a character called—I shit you not—Beef Boss comes from Bitty Boomers, a company that ostensibly sells the home audio equivalent of Funko Pops. While I can't speak on the quality of the sound, it's small enough to fit in your hands and last four hours on a single charge. A verified Amazon reviewer called it "awesomely loud" and gave it five stars so it must be good.
---
You might think those LEGO games are just for kids, but try one and you might find yourself falling in love with your childhood all over again. Today, you can score various LEGO games on the cheap, including the LEGO Marvel Collection that bundles LEGO Marvel Super Heroes, LEGO Marvel's Avengers, and LEGO Marvel Super Heroes 2 for one low $15 on both PS4 and Xbox One. The LEGO Harry Potter Collection includes two games for $16 on PS4 and Xbox One, too. ($20 on Switch.)
Singular titles are going for that same sweet $15 price, including LEGO Incredibles (PS4, Xbox One, $20 on Switch) and LEGO DC Super-Villains (PS4, Xbox One, $20 on Switch). The LEGO Movie 2 Videogame is a nice exception at just $13 on PS4, $9 on Xbox One, and once again, $20 on Switch.
There's a lot more to discover at Amazon, with discounts available on many different LEGO games across several platforms, so get over there and start thumbing through the virtual bargain bin.
---
Whether you're new to Kingdom Hearts or you're interested in owning all the games at the best quality, the Kingdom Hearts All-In-One Package is a fantastic deal. It includes ten Kingdom Hearts experiences, including games and cinematic content, and Amazon has it for just $40 today. Here's everything you'll get in the package:
Kingdom Hearts Final Mix
Kingdom Hearths Re: Chain of Memories
Kingdom Hearts 358/2 Days (HD Remastered cinematics)
Kingdom Hearts 2 Final Mix
Kingdom Hearts Birth By Sleep Final Mix
Kingdom Hearts Re:code (HD Remastered cinematics)
Kingdom Hearts Dream Drop Distance HD
Kingdom Hearts 0.2 Birth by Sleep – a fragmentary passage
Kingdom Hearts X Back Cover (movie)
Kingdom Hearts III
I may be alone in this, but I'd buy it for Chain of Memories alone. That game was dope, and I don't care who cares.
This article was originally published by Quentyn Kennemer on 5/20/2020 and updated by Quentyn Kennemer with new information on 6/26/2020.
---
We were supposed to be playing Cyberpunk 2077 right around this time, but like the good studio it is, CD Projekt Red delayed the game until September 17 to polish up. There are far too many games to play to still be upset about that, but if you've been jonesing for Cyberpunk 2077, perhaps this pre-order deal will make you feel a bit better. Amazon is offloading PS4 pre-orders for $50 a pop. Then, if you're so inclined, The World of Cyberpunk 2077 Deluxe Edition hardcover tome is on sale for $10 off the list price.
This deal was originally published by Quentyn Kennemer on 5/7/2020 and updated by Gabe Carey with new information on 6/25/2020.
---
Hey all you Animal Crossing fans, I've got a cute little deal for you. The official Animal Crossing Sticker book is only $11. So yes, you can relive your already escapist paradise when you're out in the real world! There's a bunch of activities you or your kid can fill out and try, so if anything it'll hold both your attention for a couple of hours. Y'all know I'm not a fan of Animal Crossing, but that doesn't mean you shouldn't have fun! Grab this deal before it's gone.
---
There's nothing worse than a dead controller when you're in the mood to game. With the Beboncool USB charging station, you'll be able to restore power to two, count them, TWO controllers at the same time. With the charging station, you'll be able to get a fully charged controller within two hours, and the LED indicator will let you know when each controller is up to full power. The best part about this though (besides the $13price tag), is it can be plugged into a wall adapter, laptop, or other compatible USB devices. Grab this before it's gone.
This article was originally published by Ignacia Fulcher on 3/13/2020 and updated by Ignacia Fulcher with new information on 6/25/2020.
Look, it's hand sanitizer in the middle of a pandemic, I'm not sure what else to tell you. Protect yourself from others' germs with a 12 pack of these 8 oz hand sanitizers at Meh, only $29. Given everything, these are bound to sell out fast. Why are you even reading this? Go and grab a set!
Wear a mask while you're at it, too.
---
If you want everything on the outside looking pristine, then you'll want to get a pressure washer. A pressure washer can get out stains in the driveway, or blast away that hard-to-get gunk in between bricks. If you're serious about your house looking the best, then Lowe's has this Greenworks pressure washer for just $79. This sale last until July 8, but you'll want to grab one before they sell out!
---
Remember at the beginning of quarantine sixty years ago when everyone was trying to make Dalgona coffee. Apparently it's easier than it looked but I quickly abandoned the idea because I did not have a hand mixer or frother. Today Amazon has this one from Bonsenkitchen for just $12.
I like that in the reviews someone brought up how portable and lightweight it is, which I guess if you have a coffee/milk emergency you could carry it with you. But it does look easy to operate with just one button and it's easy to clean, unlike other kitchen appliances. It's tiny but powerful so you'll be able to enjoy your Dalgona coffee in twenty seconds or less.
Free shipping for all Prime members.
---
When you cook a bunch of food you get a bunch of leftovers, so why not invest in a set of $25 glass containers? They're leak-proof as well as BPA-free, and the glass containers themselves are microwave and oven-safe! You can also throw them in the dishwasher, or place them in your freezer for even more organization. Grab em' before they're gone!
---
The last thing anyone wants in these times is to be stranded on the side of the road. If you're interested in proofing yourself for future car trouble, Tacklife's latest deal is a sweet one. You can save 35% on its 800A jump starter when you clip the coupon at Amazon and apply promo code 47SW6UJH, bringing your total down from $70 to $45.
Tacklife's 800A unit comes with the battery clamps needed to jump any 7.0L gas or 5.5L diesel engine. With dual fast-charging USB ports and an 18,000mAh cell inside, you can also be sure your phone won't die on you at the worst possible moment.
---
Oh did you think these were for something else? Despite the company name, these satin pillowcases are ultrasoft and wrinkle-resistant for your…….hair and skin. They're available in thirteen different colors all for about $7.
This pillowcase prevents knotted and matted hair if you are a more active sleeper. The high-quality satin is for those who have a mess of curly hair like me. It reduces friction to keep frizz and bedhead to a minimum in the morning. But a good pillowcase can minimize hair damage and breakage across the board. Satin cases have been known to treat your skin better too by helping prevent wrinkles and they won't dry out your skin. Easy to launder so it's won't lose an ounce of its plushness and interrupt your beauty sleep.
Free shipping for Prime members.
---
Today at SideDeal, you can get a VAVA Mini dash cam for only $29. It has a 1080p camera with 140-degree wide angle recording to make ensure you capture everything in front of you. With a protruding lens and a 3-inch LCD, it almost looks like a digital camera. This model features motion detection, too, so it'll automatically record the moments leading up to any collision, driving or otherwise. You'll get an 8GB SD card with your purchase. Find it for $29 at SideDeal.
All this week, my lovely coworkers have been talking about Amazon's Big Style Sale, a huge sale that the retailer is having on clothing and accessories. They're not lying about it being big, either—it's downright overwhelming to look at! The sale has some Prime Day level discounts, and who knows when that is coming back… so don't sleep on this sale.
Not that you can sleep on it anymore—today's the last day! But with so much to look through, how will you just the right item for you? Don't worry, we have you covered. There are some posts that put together wonderful outfits from what is on sale during the event, for example. Or, you can pick up some nice sunglasses at a nice price.
As for my recommendations? Well, I'm in the market for some new workout pants, and these Danskin drawcord pants look super comfy. It's only $25 for the Large size! You might even save more (or less) depending on what size you are. Or, you can pick up these tights that mimic skin colors to wear. They start at $9.
There is all sorts of stuff to look through, but you better make it fast, as the sale ends at the end of the day.
---
With everything going on, it feels best to just escape to the great outdoors. But, you need to make sure you're prepared for it. If you tent is leaky (or non-existent) and some of your gear needs updating, you're in luck. Moosejaw's Sunburn Sale lets you save up to 30% on camping and outdoor gear!
What are some items you can grab? Well, Hydro Flask items are on sale, and they're super awesome coolers that'll keep things cold all day. If you need a new, bright lantern, the this BioLite BaseLantern has you covered, and it's $80. If you actually need a tent, why not the Big Agnes, which can fit two people and their gear, and has some built in LED lights to boot?
Whatever you're looking for, this sale lasts until July 4. You have a little time, but don't let these deals slip by!
---
Got enough clothing yet? No? Perfect, Nordstrom has a sale for you. They're offering an additional 40% off select men's clothing and shoes, so you can get some items for really cheap!
What should you grab? Well, these loafers look super comfortable, and they're only $20. Or grab this henley at $18. Or this $9 tie? Take a look at what Nordstrom has to offer, and you won't be disappointed.
---
It's getting hot FAST, and you might just be realizing that you don't have enough shorts to make it through the summer weather. Don't go out in a pair of gym shorts or cargo shorts (please), and grab some nice looking chino shorts from JACHS NY for cheap this week.
This deal includes all men's shorts on offer at JACHS NY, but why wouldn't you go with chino shorts? They look great, tend to be a bit dressier than most shorts, and by using code JLY4 at checkout, they're only $32 a piece. But, what kind of shorts you're looking for depends on their use! Dock shorts look a bit better for lounging at home and sleeping in, for example.
Whatever you choose, make sure to grab this deal before it's gone!
---
Want to grab some new nail lacquer or lip cream? Well, with Butter London's Best Sellers sale, you can grab some quality items for cheap. It's 2 for $30, and you can't go wrong with some of the items on offer!
There are a few things you can grab, but my personal choice would be the Little Luxuries collection. I'm a sucker for gift boxes, and this one has four awesome looking mini-lacquers. Then, I can pick up one more lacquer for just $30! Seeing as the gift set is at $28, that's a damn good deal.
---
Yes, I have actually been in the presence of one of these and no it wasn't in the office of an 80's high powered jerk executive. You can grab your PutterBall for the backyard, office, or living room today for 15% off. Just use the code KINJA15.
What's PutterBall? It's a portable turf board, as mentioned before, that can be placed anywhere that's flat. It's got twelve holes at one end and basically operates with the rules of beer pong. It comes with twelve covers to place over the holes once you sink it. The two putters are good for righties or lefties which is a nice touch. Marked down to $170 I'd say this is a great piece to have for indoor and outdoor parties. Or honestly use it as one of my buddies does to practice your touch. He's also a professional caddy. These skills translate.
Shipping is $15.
Need some action films for your next movie night? Well, you're in luck! Amazon has the Mission: Impossible 6-Movie Collection on Blu-Ray for just $33. That's just a little over $5 a movie, and just under half off its normally $60 price tag.
This collection includes all of the Mission: Impossible films, so if you haven't seen any of the films in particular, now is your chance to catch up. If you love action moves and don't have the these titles, you're really missing out.
---
Ever curious why every dog happens? (Spoiler: it's for a reason.) How about what lies behind The Ten Thousand Doors of January, or even Her Eyes? You will learn about these things and so much more from Amazon's top Kindle deals today. Starting at $1, you don't need to be bookish to enjoy a good (or bad) read. If that's $1 too many for some of these titles, you can also subscribe to Amazon Kindle Unlimited for 1 month, free of charge, and if you like it, never pay full price for an eBook again. Check out the whole catalog and report back on your findings in the comments below.
Back when we were all allowed to go about our lives as we pleased I used to do most of my work in a neighborhood French cafe. I would bring my laptop everywhere so a sturdy backpack that kept it safe was key. In today's SideDeal there's one that does just that and is only $18.
This sizable bookbag from Incase is almost nineteen inches in height so plenty of room for lappy and anything else you need to take with you. The black nylon exterior keeps it's cleaner and won't show any dirt. The inside is faux fur to keep a fifteen-inch laptop snug and protected. There are four slip pockets and two pen slots for the little extras you need to toss in. The straps are durable to withstand wear and tear of many travels. Now here's the kicker, this bag was originally $120. That's over 80% off so I'm sure it will sell fast.
If you've read a few of our pieces on SideDeal before and you like what you've seen they offer a $5 monthly fee to get free shipping on all of your orders no matter how many. Otherwise, it's a flat rate of $8.
---
Because of the COVID-19 pandemic, Ella Paradis is experiencing fulfillment delays for some products. If you have any issues, make sure to contact their customer service page for any help.
It's summertime and the living is easy. You can make it easier with this Ella Paradis sizzlin' summer bundle. It includes two vibrators and a tube of Lelo lube for a sexy $49. Those long summer days can be spent by having orgasm after orgasm, because who doesn't approve of a little afternoon delight?! Grab this deal before it's gone!
---
I've used three different versions of the Logitech G502—the original wired, the wired model with the HERO sensor, and the Lightspeed wireless version. Clearly, I'm in love. If you're wondering what all the fuss is about, the G502 HERO is down to just $47 at Amazon today.
This mouse is killer for gamers, featuring 11 completely macro-customizable buttons, on-the-fly sensitivity changes with custom increments up to 16,000 DPI, customizable RGB lighting, and, mostly for FPS games, a button that sharply lowers you DPI for however long it's pressed, perfect for lining up headshots.
It's also ergonomically sound, with a shape allowing you to cup the mouse comfortably with minimal finger gymnastics to reach your buttons. There are also customizable weights for those who like a heavier track.
As for that HERO sensor, the 16K DPI alone sells it, but you'll also get dynamic and automatic surface tuning to keep your cursors and crosshairs moving smoothly across any mousepad or desk you prefer.
---
Feed your nostalgic side with a hot deal on Super Monkey Ball: Banana Blitz, the 2006 continuation of the platformer that was recently updated with HD graphics. It's down to $21 for PlayStation 4 at Amazon, which is a meaty (banana-y?) $19 discount.
---
For many of us, sheltering in place doesn't look to be ending any time soon. That's mostly fine, but it's never fun to get a fresh new outfit and not be able to wear it out and flaunt it.
Still, it's tough to pass up a good sale, and those spiffy new threads will still be there when it's safe to roam about again. Huckberry has a huge selection of outerwear, ranging from coats and blazers to boots and wallets. The company's Spring Outerwear Sale really only covers jackets and coats, but the discounts are definitely worth taking a peek—some jackets are as much as $100 off.
---
Because nothing says freedom like government-authorized cannabis extract, Sunday Scaries is offering up the bundle of a lifetime to celebrate the 4th of July this year. For just $49, you can chew vitamin D3- and B12-infused CBD gummies to alleviate tension and help with focus, munch on Unicorn Jerky candy to ease your caffeine jitters, and take YOLO shot energy blends to ramp them back up. No matter who you are or what kind of vibe you're going for this holiday, I'm betting there's something here for you. Sunday Scaries has been featured on Buzzfeed, Forbes, Cosmopolitan, and more.
---
If you've been on our site recently you know we are big fans of the Satisfyer Pro 2, our own Jolie Kerr had a pretty in-depth review. She really went above and beyond in double-clicking for hours of accurate testing. I can personally say this is the best vibrator I've ever had and you should probably grab this while it's still in stock. That's not to knock the other solo aviator products in the line, just the Pro 2 is far and away the best.
There are traditional rabbit vibes, g-spot stimulators, and truly magic wands included in this sale as well. It's a buffet of pleasures and at these prices grab two or three. Just remember to use the code KJSTSY at check out.
Free shipping on all orders.
---
Sounds like baseball might be back but with the new world order, we probably won't have dugouts with buckets full of double bubble and bazooka joe. Hard to imagine they'll allowing chewing and spitting this season as years gone by. But that doesn't mean you can't relive that magic. This giant box of Bazooka gum is 30% off today and at least this one is sugar-free.
There are only two types of Bazooka gum: soft and rock hard. The rock hard ones always turned up when you were trick or treating as a kid, right?! But I was flooded with a lot of childhood memories when I saw this box on sale. Blowing giant bubbles at the beach, collecting Bazooka Joe comic strips, and watching my cousin get this stick in her hair. This box is cool because it's split up into six on-the-go cups each with ten pieces of guaranteed crunchy outer shell and soft middle gum. It says it's American Dental Association approved because it's sugar-free but I just don't know Joe, I just don't know.
Prime members get free shipping on this item.
---
Whew, all the food lovers rejoice! The Ninja Foodi pressure cooker, tender crisper, and air fryer is down to $129, which is $51 off the original list price. For all who don't understand the magic of this cute kitchen appliance, you can air fry literally whatever you want (fries, chicken wings, even BROCOLLI!), and can use the pressure cooker to make juicy, savory meats and stews in the fraction of the time it would take on a traditional stove. I have one, and let me tell y'all. I've made baby back ribs, chicken wings, and even mashed potatoes in this bad boy. It's a mistake not to grab one before they're all gone.
---
If you've taken a Delta or United flight in past few years you've probably gotten a pack of cookies with your complimentary beverage. Lotus Biscoff is those cookies. United did announce earlier this year it was trading these in for Oreos which is a crime against nature. But Delta is standing by her Belgium cookie man.
Save $10 in the deal and be your own flight attendant assuring tastiness arrives on time every time. Equal parts cinnamon, ginger, and nutmeg these biscuits melt in your mouth like butter, your only destination is savory-ville.
Free shipping for Prime members.
---
I can't be the only one who lives in a house of many and notices the availability of silverware slowly diminishing with time. Someone's accidentally throwing those forks away, dammit, and no one wants to fess up. I prefer to just replace them, and if you're a fancy pants, this stainless steel set is perfect. You'll get 51 pieces for $49, broken down as follows:
8x Dinner Fork
8x Salad Fork
8x Dinner Spoons
8x Dinner Knives
8x Steak Knives
8x Teaspoons
1x Table Spoon
1x Slotted Table Spoon
1x Cold Meat Fork
---
Even the best grill masters need to practice safety while cooking. Unless you exalt BBQ blisters as permanent battle scars, a pair of heat-resistant gloves is ideal to have on hand (GET IT?!) when it's time to flip the meats.
They're only $19 at MorningSave in your choice of Black, Blue, or Red. Grab a pair (or two) and save yourself potential days of misery this summer.
---
Star Wars Jedi: Fallen Order is a fantastic Star Wars game, and if you haven't already played it, please take care of that. It's an order of self-care. But if you have played it and you're looking for other ways to appreciate the experience, try picking up the official limited edition art book. This hardcover copy is down to $46 at Amazon.
With detailed concept art of all-new characters, exciting weapons and equipment, and locales both familiar and new, this tome offers a behind-the-scenes look at the production of a hit game—all accompanied by intimate artists' commentary that reveals how this incredible universe is brought together. This limited edition also features a cover and slipcase inspired by ancient Jedi tomes, as well as an exclusive gallery-quality lithograph!
---
If you're looking for more modernized retro consoles to add to your collection, this deal on a Neogeo Arcade Stick Pro is right on time. It's only $99 right now, down from $130.
Unlike most classic consoles, The Neogeo Arcade Stick Pro actually houses all it needs in the controller itself. You have two USB-C ports for connecting controllers from your Neogeo Mini (also discounted to $55 right now), an HDMI out port, and 3.5mm audio to keep the noise down. If that's not enough, you can use it as a USB controller on both Android and PC.
---
Kinja Deals is the only place you'll find Anker's 45W slim fast charger going for $26. Normally $38, this is the lowest price we've ever seen for this item, and the only catch is that you use promo code KINJAONE45 at checkout.
With a 45W USB-C Power Delivery port, you can charge anything from smartphones to laptops at the highest available speeds. Plus, the charger is only 0.8 inches thin, so it won't have to fight hard for space in your travel bag.